Sault Ste. Marie Amps Up Hockey Excitement
Sault Ste. Marie city council, with agreement from the Soo Greyhounds Hockey Club, approved the purchase of a new OES four-sided video display scoreboard and scoring technology for GFL Memorial Gardens.
"We're proud to be selected by the city of Sault Ste. Marie and the Soo Greyhounds to help enhance the NHL feel of GFL Memorial Gardens" said Dana Plant, OES Sales Representative. "OES has a long history of designing video displays and scoring systems for OHL teams. We know how exciting it is for players, coaches and fans to have a crowd energizing, dynamic scoreboard at centre ice."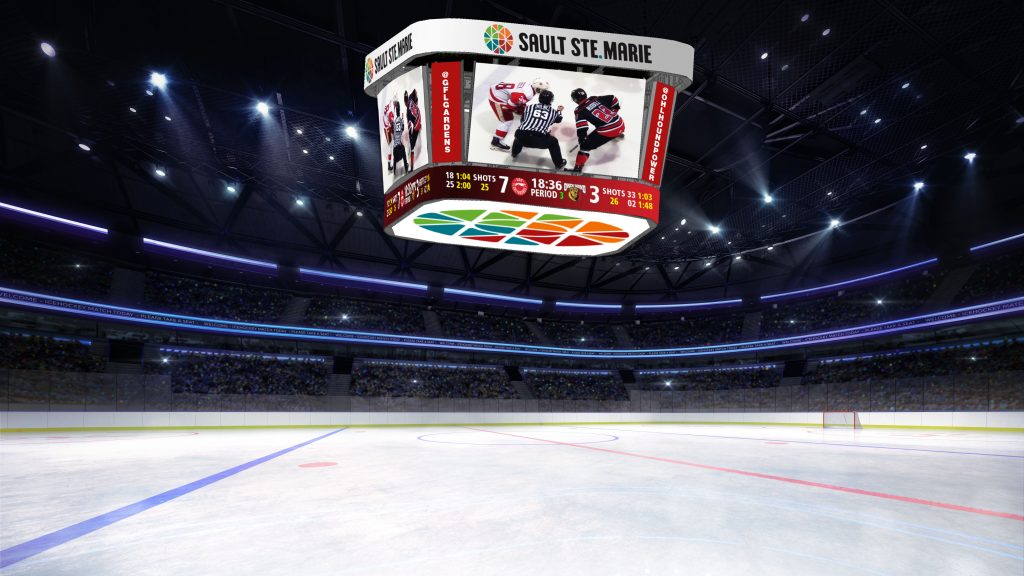 "The Soo Greyhounds are pleased to partner with OES in bringing this state-of-the-art videoboard to our arena and we are excited to have the opportunity to enhance the experience of the league's best fans," stated Tim Lukenda, President and Governor of the Soo Greyhounds.
With the project scheduled to be complete in time for the start of next year's hockey season, it's already creating some buzz on social media. According to Jeff Stewart, CEO OES Inc., GFL Memorial Gardens is one of Northern Ontario's premier sports and entertainment facilities and a vibrant part of Sault Ste. Marie's downtown district. "We're thrilled to work with the Soo Greyhounds, one of the legendary organizations in the OHL, as well as have the opportunity to help the city to bring more excitement to hockey games and special events and look forward to helping spread the word on this excellent facility," he said.
One of the advantages of partnering with OES Scoreboards for projects like this one is the long-standing relationship they have with the professional leagues; it's this pro venue expertise they bring to every customer they work with. OES scoring and timing solutions can be found in numerous venues for NFL, NBA, NHL, CFL and MLB teams, including the Toronto Maple Leafs, Chicago Blackhawks, Baltimore Ravens, Golden State Warriors, Boston Red Sox and Saskatchewan Roughriders. Current pro venue projects include the scoring and timing system for the new L.A. Rams and Las Vegas Raiders facilities.
For the latest on all OES projects follow them on Twitter @OESScoreboards.